Programme for International Student Assessment (PISA) telah telah melakukan penelitian tentang pengetahuan murid dari berbagai negara, penelitian tersebut dilakukan dalam hal membaca, matematika dan ilmu pengetahuan, serta apa yang dapat mereka lakukan dengan pengetahuan tersebut.
Indonesia mendapatkan angka 371 dalam hal membaca, 379 untuk matematika dan 396 terkait dengan ilmu pengetahuan.
Peringkat PISA yang dibuat The Organisation for Economic Co-operation and Development (OECD) Organisasi bagi Kerja Sama Ekonomi dan Pembangunan ini mengisyaratkan kualitas pendidikan di dunia.
Pemeringkatan ini dipandang memungkinkan para pengajar dan pembuat kebijakan untuk belajar dari kebijakan dan praktik yang diterapkan di negara-negara lain.
PISA menempatkan China di urutan teratas dunia di semua subjek. Dengan angka membaca 555, matematika 591 dan ilmu pengetahuan 590 berdasarkan data dari empat provinsi Beijing, Shanghai, Jiangsu dan Zhejiang dengan jumlah penduduk 180 juta.
Di peringkat kedua di dunia adalah Singapura dengan angka 549 untuk membaca, 569 untuk matematika dan 551 untuk sains.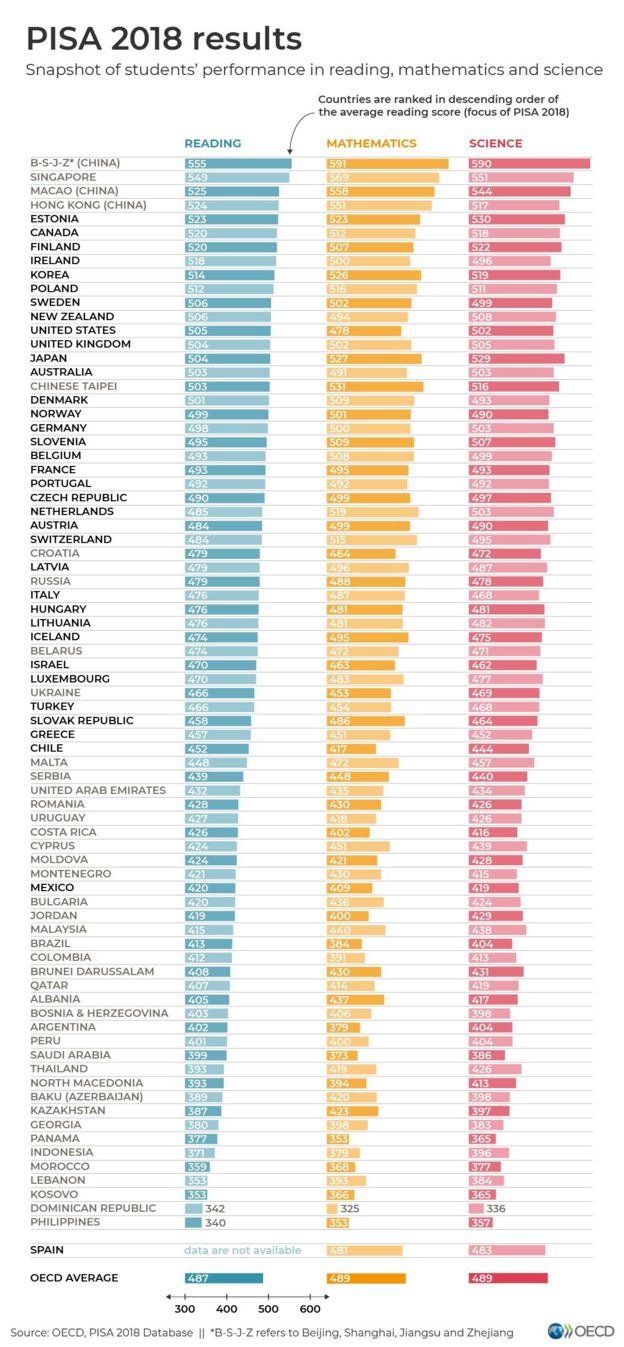 Melihat peringkat tersebut tentunya menjadi PR bagi pemerintah dan organisasi pendidikan untuk meningkatkan mutu pendidikan yang ada di Indonesia. langkah pertama yang diambil tentunya adalah perbaikan dalam sistem manajemen mutu pendidikan.
Berkaitan dengan hal diatas International Organization for Standardization – ISO pada tahun 2018 lalu telah meluncurkan ISO 21001:2018 – Sistem Manajemen Organisasi Pendidikan   sebuah standar yang dimaksudkan untuk dapat membantu penyedia pendidikan agar lebih baik dalam memenuhi kebutuhan dan harapan peserta didik/murid , dan menaikan kredibilitas dari organisasi pendidikan tersebut.
Saat ini Pemahaman standar  ISO 21001 sangat diperlukan demi perbaikan manajemen mutu dalam dunia pendidikan, Badan atau organisasi penyelenggara pendidikan di Indonesia dirasakan sangatlah perlu memahami dan menerapakan Sistem manajemen mutu pendidikan tersebut.
Peringkat Pendidikan Indonesia